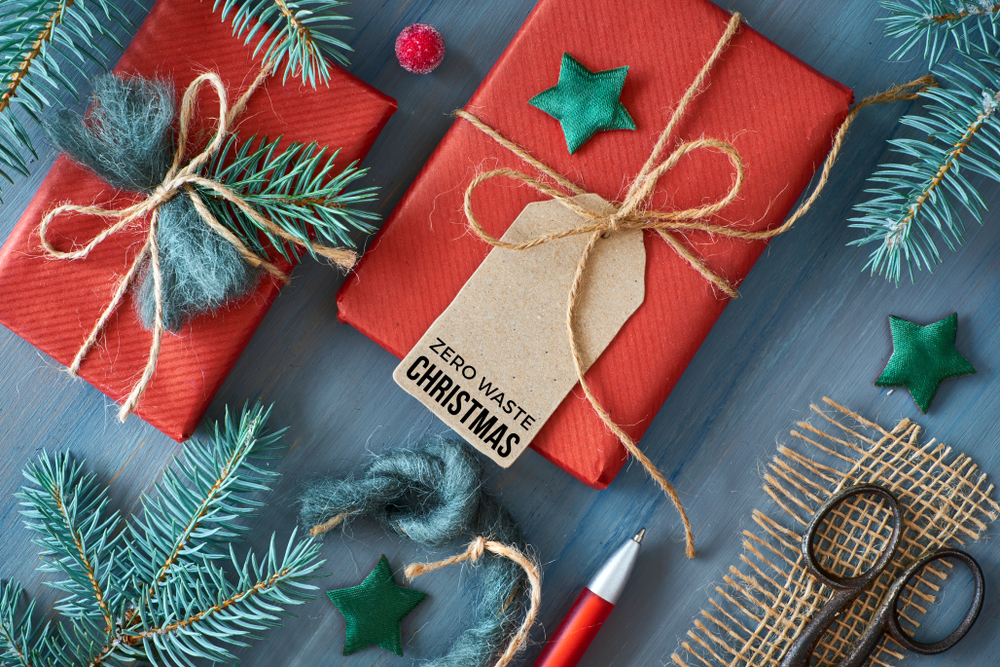 Keeping your carbon footprint low and caring for the environment does not mean you need to miss out on sparkly lights and festivities
Christmas is the most wonderful time of the year for many of us, with all the twinkling lights, lots of scrumptious food and gatherings with loved ones to celebrate over the festive holidays. But most importantly it's also a time for hope, caring, and sharing with those in need of our help and support.
But you may be thinking, how can I be climate conscious but still be festive? Well, there are a lot of actions you can take that will help. From lighting to food and even wrapping presents.
Here are some key things to consider that won't break the bank or stop you from missing out on the Christmas spirit.
On the first day of Christmas…
Christmas tree debate – do we go for real or artificial?
If you have the space to plant a Christmas tree in your garden, then consider using a real Christmas tree. They smell fresh and beautiful adding that green festive touch to your home – although if you don't have space to plant one then consider getting one from a sustainable source to limit your footprint. If you live in County Durham once the festivities are over and the tree is no longer of use you can arrange a collection up to 6 January or look at recycling options.
Artificial trees on the other hand, although some are made of certain plastics that are harder to recycle, can be used  for several years and don't drop needles which can be harmful to our beloved pets.
If you keep the same artificial tree for many years – it would be better for the environment than cutting down a new real tree each year. But if you would replace your artificial tree after only a couple of years – you should have gone with the real one!
On the second day of Christmas…
The glistening lights that bring warmth to hearts. A great way to keep a watch over how much energy you spend lighting the indoor and outdoor of your home or premises is by having them on smart plugs or timers. This way you can make sure you don't forget to switch them off after a couple of drinks or a long day at work.
LED lights and decorations are a great choice to keep those energy costs down. LEDs can save up to 90% of lighting energy costs: using a standard 100W light bulb for 4 hours a day currently costs you £25 a year but a low energy light bulb costs only £2.50 a year and saves 52kg CO2 per bulb. There is a choice of lighting available these days from solar, battery or mains powered, choose wisely and remember that batteries need to be recycled separately and you can do this by visiting your local recycling centre or local supermarket.
On the third day of Christmas…
Time to put your feet up and get cosy. Thinking of turning up your heating? Don't. Instead put on your favourite Christmas jumper, socks or pyjamas and wrap up with a cosy dressing gown and a mug of something warming. Turning down the thermostat by even one degree not only can save you some money but can reduce your carbon footprint by 184kg CO2. This is based on a consumption saving of £42 per year on an average household gas bill but can vary depending on the tariff you are on.
On the fourth day of Christmas…
Wrapping gifts for loved ones and those special people in our life. That perfect moment when you get that flutter of excitement; wrapping presents and making them look extra special and enticing to open. Perfect time to get creative and use imagination adding that personal touch. Use anything you have to hand, from shoe boxes, old bags, fabric, to used glass jam jars to put those favourite treasured gifts in.
Consider reusing wrapping paper, making your own using old newspapers or magazines but if you are buying some look out for the product information, there are some great festive rolls out there which are sustainable and recyclable. Avoid glossy and glittery paper that isn't recyclable. Use string and fabric too instead of tape as this will also help preserve the wrapping paper to use again. Time to put tags on the gifts to make sure they go to the right person. Use old Christmas cards and if you don't have any this year keep some for next year.
On the fifth day of Christmas…
Food is an essential part of Christmas, all those scrumptious smells and tastes that always bring that added spark to the festive holidays. In the UK we waste five million Christmas puddings, two million turkeys, and 74 million mince pies each year. This is without mentioning all the fruit, vegetables, and snacks. And considering the amount of people and families that go without and need to use foodbanks those waste figures are criminal.
We all have a habit of buying and cooking too much resulting in a lot of waste. So, this Christmas get your favourites, choose some vegan and vegetarian options too, but keep an eye out on the amounts you buy and if you buy a little extra why not take to your local food bank to help the less fortunate. Let's be part of the solution and not the problem.
Buy only what you intend to eat – and eat everything you buy.
On the sixth day of Christmas…
Some travelling will be done by all this Christmas, whether it's to visit loved ones or go to that wonderful Christmas market or pantomime. Try using public transport and trains for those journeys. And consider whether you really need to travel. You can also use the  London North Eastern Railway calculator to calculate your trips carbon footprint comparing using a train, car, or plane.
If you are going to be travelling by car during the festive period, making sure your vehicle is winter ready not only helps reduce the carbon emissions but is also a great thing for safety. Making sure you check your tyre tread and thread inflation pressure, using high gears safely, not leaving the car idling in long queues and utilising the start/stop facility if you have one.
Sharing is caring. Think about car sharing and travelling at quieter times cruising through your trip on high gear saving emissions and fuel.
On the seventh day of Christmas…
One of the highlights of Christmas is spending times with your family and loved ones.  Why not switch off the television for a bit and plan some activities together. If the weather permits it wrap up warm and go for a nice relaxing stroll or bike ride, visit a Christmas market, and take in the holiday scenes, and if not, get those board and interactive games going.
Physical activity is always good for your mind and body and can be great fun. It also helps keep off those extra pounds allowing you have that extra tasty treat.
On the eighth day of Christmas…
Gift the gift of efficiency to help your loved ones. If you are buying electrical items, make sure you check their energy efficiency rating and if lights are involved look for LED lights. Also, for any battery-operated items how about buying rechargeable batteries.
Looking for cosy items for them to keep them warm? Woolly socks and cosy thick jumpers are ideal helping them use less energy to heat their home. Sometimes you could end up with unwanted gifts but don't bin them, gift them to your local charity for those more in need to enjoy. And to help avoid this and having a more sustainable gift exchange you could simply reduce the amount of presents and buy something durable, environment friendly and locally produced.
And remember you don't have to buy something to make someone's Christmas special, you can make something adding that personal touch or even give them an experience to remember which both give the feeling of excitement, thoughtfulness and are unique.
On the ninth day of Christmas…
With food comes cooking and baking. And ovens use a lot of energy. Meal prepping and cooking in batches is key for saving energy, reducing costs and carbon emissions. Also, food will cook faster and require less energy when you keep the lids on pots and the oven door closed while cooking. Use a timer to prevent overcooking and use the oven light to check the progress of food in the oven.
Don't forget to use the right size pots and pans, compost where possible and if there are leftovers consider freezing them for another day.
On the tenth day of Christmas…
Prepare to march your way into the new year by signing up to our County's Climate Change and Carbon Reduction pledge and join everyone turning climate talk into climate action helping tackle not only your emissions this Christmas but for the rest of time.
On Christmas eve….
It's time for those final touches, getting those presents under the tree, preparing the food, and enjoying a relaxing evening.
While preparing for the big day, remember cook only what you need, consider turning your thermostat down a little especially when guests arrive as the warmth of cooking and possibly having more people around will keep your home toasty. Recycle anything that can be recycled, and keep those lights off to enjoy the sunshine when daylight breaks.
On Christmas day…
Enjoy the fruits of your efforts, be with your loved ones if possible, and be joyful and thankful for what you have achieved whilst reducing your impact on our environment this festive season.
Wishing you a Merry Christmas and Happy New Year.