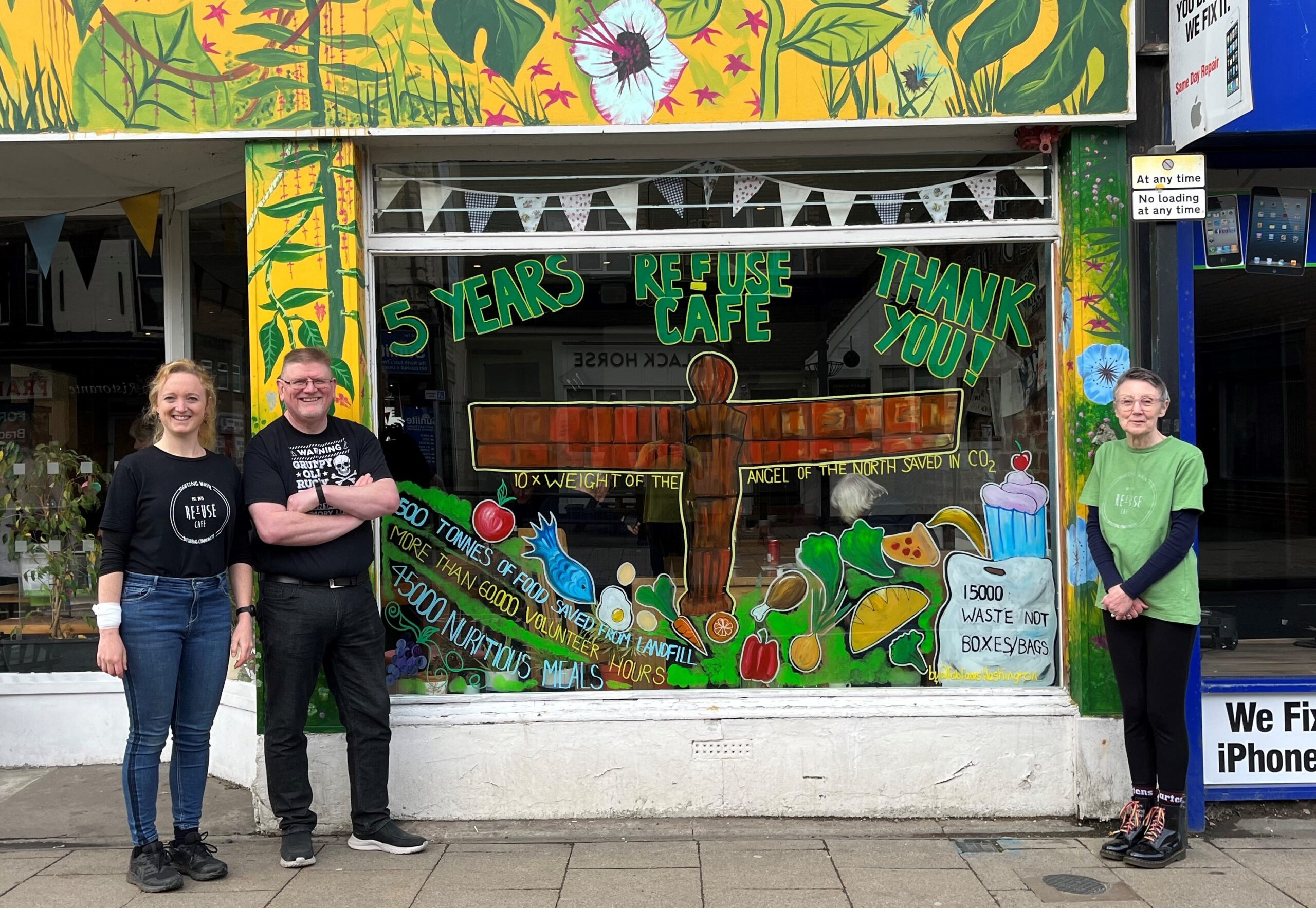 The REfUSE community cafe in the centre of Chester-le-Street celebrated its fifth birthday on Friday 14 April with a newly commissioned window painting by local artist Lisa Malia.
REfUSE cafe uses food from supermarkets, wholesalers and manufacturers that would normally have gone to waste. In the five years since it has been opened it has diverted over 500 tonnes of food, enough to fill over 4,600 wheelie bins. They have served over 45,000 hot nutritious meals and made up 15,000 Waste Not Boxes of fresh food all with food that might otherwise have ended up in the bin. The CO2 saved from stopping good food going to waste would be the same as taking 900 cars off the road.

The café is run mainly by fantastic volunteers from all walks of life and customers come from far and wide to sample the meals. Lisa Malia from Fab Faces Washington has created a fabulous piece of artwork in the cafe window to say thank you to the hundreds of volunteers and customers who have supported the community enterprise.
The cafe was converted from a disused shop unit on Chester-le-Street's Front Street to a vibrant community cafe serving breakfast, lunch and cakes to 400 customers a week. As well as the cafe, REfUSE has a community shop and produces weekly "Waste Not Boxes" containing a range of fresh groceries. Thursday Nights are Restaurant Nights serving a three course a la carte menu all with food that might otherwise have gone to waste.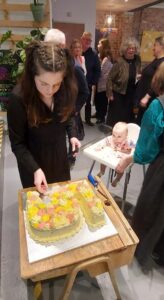 "We have come such a long way from serving soup in a bowl when we started to offering a wide choice of delicious meals including daily vegetarian and vegan options and has only been possible with the support of our community and the hard work of our amazing volunteers," says Nikki Dravers, Director. "Food is much more than just fuel for our bodies: it is the social glue that brings people together".
Sarah, who started as a volunteer and now works for REfUSE as café manager and on their schools' programme, says: "The great thing about the café is that it is open to everyone from workers to families to people feeling isolated. Not only are we creating a great community in our café, but we are stopping so much perfectly good, edible food from being wasted saving both money and the environment."
REfUSE café, 143c Front Street, Chester-le-Street, DH3 3AU
For further info contact:
Nikki Dravers: 07512365768 refusecic@gmail.com
Oliver Priestley-Leach: 07732 779893. oliver@refusedurham.org.uk